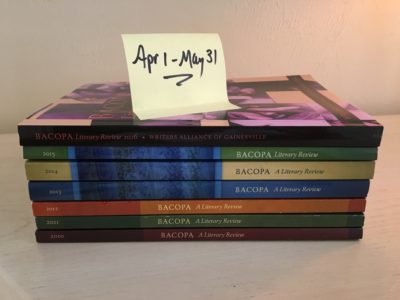 Submissions will be open from April 1 – May 31, 2017, for the eighth annual edition of Bacopa Literary Review, WAG's international print journal. There will be one $400 prize in each of four genres: flash story, poetry, literary fiction, and creative nonfiction. WAG members can submit once without paying the $3 submission fee. All published authors will receive a copy of the print journal and will be promoted online after publication.
Kaye Linden is editor of our newly added Flash Story category. Submissions to this genre can be flash fiction, flash nonfiction, or flash memoir, as long as they follow story structure guidelines—including a compressed story line, conflict, and change—in 750 words or less (see: Kaye Linden's 35 Tips For Writing A Brilliant Flash Story). Our January 18, 2017, Editors' Blog post features one of Kaye's flash pieces as well as links to many other examples.
Our new poetry editor J.N. Fishhawk (AKA Jimmy Schmidt) has been a friend of Bacopa since the 2010 issue, in which his prose poem "a prayer" helped inaugurate the first edition. He's looking for submissions of "well-wrought poems in any form or genre, or no genre. Intrigue us, move us, surprise us with stunning imagery, lyricism, soundplay, structure. Disturb our well-trod patterns of thought."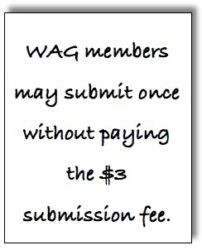 As he did last year, fiction editor U.R. Bowie invites submissions of literary fiction: "a distinctive voice that does more than tell a simple story; beautiful writing that offers a deeper look at the human experience, with uniquely individual phrasing, fresh and authentic." In this scene from To the Lighthouse, for example, Virginia Woolf artistically paints with words a "downpouring of immense darkness":
Nothing, it seemed, could survive the flood, the profusion of darkness which, creeping in at keyholes and crevices, stole round window blinds, came into bedrooms, swallowed up here a jug and basin, there a bowl of red and yellow dahlias, there the sharp edges and firm bulk of a chest of drawers. Not only was furniture confounded, there was scarcely anything left of body or mind by which one could say "This is he" or "This is she."  
Creative nonfiction editor Susie Baxter asks for "submissions with a moving inner voice, work that holds to the same standards as other literary forms while remaining grounded in fact." In our Editors' Blog she writes, "Listen to the rhythm of the words as 2016's first prize winner in nonfiction Jessica Conoley sets the scene in 'I am Descended from Giants.'"
. . . It's southeast Mis-sur-ah flat–the flat of white dotted cotton fields and mosquito-infested rice fields. The kind of flat that offers no shelter from the Mississippi River when the rain comes, and her banks rise, and families wait to see just how high the muddy sludge will climb up the baseboards in their living room . . . .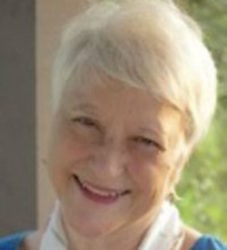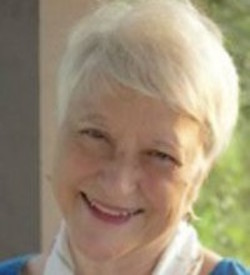 Behind the scenes as editor in chief, I keep track of dates and responsibilities among the team by email and phone; connecting with and promoting our contributors online; making sure Bacopa stays in the news via our Editors' Blog posts, Facebook, Twitter; keeping the WAG board and members informed; and looking for ways to increase our visibility among local writers and poets who don't yet know about WAG or Bacopa.
We're all looking forward to your submissions April 1 — May 31, 2017 (click here for link to Submissions page).