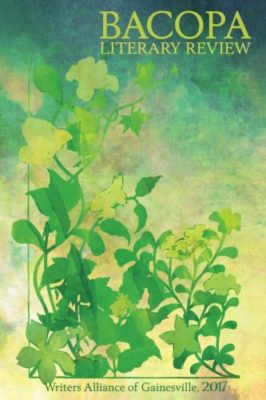 WAG's 8th annual journal, Bacopa Literary Review 2017, features poetry, creative nonfiction, flash story, and literary fiction by writers from around the globe.
Editorial Board
Mary R. Bast, Editor in Chief
Cynthia D. Bertelsen, Associate Editor
J. N. Fishhawk, Poetry Editor
Susie H. Baxter, Creative Nonfiction Editor
Kaye Linden, Flash Story Editor
U. R. Bowie, Literary Fiction Editor
Contributors
_______________
* Winner of $400 prize in this genre
---
Bacopa Literary Review Editorial Team, 2017
Mary Bast, Editor in Chief
A former Nonfiction Editor of Bacopa Literary Review, Bast is a frequent contributor to Bacopa's Editors' Blog and maintains several work-related blogs for her Out of the Box Coaching business. Her creative writing has appeared in a variety of print and online publications and she has published five coaching books, two poetry collections, two found poetry collections, and a memoir. She's also an artist.
Cynthia D. Bertelsen, Associate Editor
Writer and photographer Bertelsen has published essays, book reviews, and photographs, online and print. Mushroom: A Global History sprouted from her blog, "Gherkins & Tomatoes" (gherkinstomatoes.com), while her magical realism novel-in-progress grew from the roots of medieval mysticism and herbal healing. For inspiration, she draws upon her experiences living and working in Mexico, Paraguay, Honduras, Haiti, Morocco, Burkina Faso, and France.
Susie H. Baxter, Creative Nonfiction Editor
As an acquisitions editor and publisher for a health-science publishing house in St. Louis, Baxter commissioned dozens of successful clinical reference books, authored by world renowned physicians. Recognition for her success included Times Mirror's coveted Editor-or-the-Year Award. Her own books include C. G. and Ethel, A Family History and Write Your Memoir, One Story at a Time. Baxter now teaches memoir writing at Santa Fe College.
U. R. Bowie, Literary Fiction Editor
Bowie taught Russian language, literature, and culture for thirty years at Miami University in Oxford, Ohio, and has published eight books, including four works of literary fiction. He has volunteered for the Red Cross/Red Crescent Society in Ukraine, Belarus, and Central Asia, consulted with American entrepreneurs seeking business with the Russian Federation, and taught as a Fulbright Scholar at Novgorod State University, in Great Novgorod, Russia.
J. N. Fishhawk, Poetry Editor
Fishhawk is a Florida-born poet, writer, editor, and activist who calls the swamplands of North Central Florida home. His work has appeared in Monkey Puzzle, Steel Toe Review, Strong Verse, Bacopa, Devil's Advocate, Half Drunk Muse, and other print and online publications. He is the author of two chapbooks of poetry, Virus, Pt. 1: I Infest Yer Consciousness (Dreaming God Productions, Atlanta, GA 1994) and Gone (Ghost Dog Press).
Kaye Linden, Flash Story Editor
Linden has an MFA in short fiction and is working on an MFA in poetry. She is past Assistant Editor for Soundings Review, previous judge for Spark Anthology, and currently works as Medical Editor for "Present e-learning Systems." A Pushcart nominee, Linden writes in all genres but favors flash memoir, prose poetry, and haiku. Her latest writings include 35 Tips For Writing A Brilliant Flash Story.