M. W. Gordon – Ask Not for Whom the Pen Writes . . .
October 8, 2017, 2:30 PM

-

4:00 PM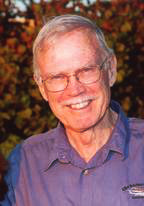 Summary of M. W. Gordon's talk by Penny Church-Pupke.
Retired UF law professor turned mystery writer Michael Gordon (pen name M.W. Gordon) presented a program entitled "Ask not for whom the pen writes, it writes for me." A published author of nonfiction and fiction, Gordon's debut novel Deadly Drifts, the first of nine in his  McDuff Brooks mystery series, won the 2014 Royal Palm Literary Award for Published Book of the Year.
Throughout his talk, Gordon used anecdotes from his life and gave writing advice gained through publishing his book series. Gordon said his writing grew out of his examination of his life's interests including law, sports, boating and fly fishing. After his retirement at age 73, he sifted through his work experiences of teaching, lecturing, consulting, and writing in international law as well as civil law. At the same time, he assessed his other interests—he was a boat builder, a certified fly-fishing guide, an oboe and English horn player, and an owner of Shetland Sheepdogs. At leisure, with no thought of writing, he began reading fiction. Eventually, he wondered whether he could write dialogue and if he knew enough to write a book, using the knowledge he had gained during his life.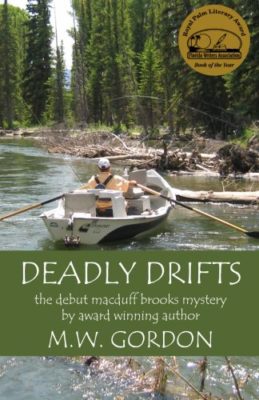 Two years later, Deadly Drifts was complete. Now, he wondered what he should do with his 300-page manuscript. He tried traditional publishing, but the publishing agent he contacted wanted a contract of five years to search for a publisher. Gordon didn't want to wait that long. On his own, he tried the Big Five Publishing Houses—Penguin Random House, HarperCollins, Simon & Schuster, Hachette Book Group, and MacMillan—but they weren't interested. Going to a subsidiary of the Big Five, what Gordon called a "sub of a sub of a sub" wasn't satisfactory. His alternative was DIY publishing (Do-It-Yourself). He suggested authors use the term Do-It-Yourself rather than self-published. Gordon confessed he had made lots of mistakes as he learned the ins and outs of publishing. In addition, he said DIY publishing took lots of his time, and required him to make lots of choices.
Here are some of his recommendations.
Gordon suggested that authors not edit their works themselves; he added that it is important to know what kind of editing is being contracted (grammar, punctuation, content). Referring to DIY books, he said writers should make use of templates—5.5 x 8.5 is a good size. Once a template it used, it can be reused through copy and paste. Use 1.5 line spacing for your final submission since double-spacing makes it look like a draft. He advised forming your own publishing entity LLC (Limited Liability Company) or create a fictitious name so you can say you are "published by a small publishing firm in (location)." Also purchase your own ISBN (International Standard Book Number) so the number belongs to the writer not the publisher—it is, he emphasized, a matter of control.
Gordon discussed the differences between print-on-demand (POD) publishers like IngramSpark and Amazon's CreateSpace. CreateSpace publishes only softcover (paperbound) books sold by Amazon or by the author.  One positive is that a Kindle e-book can be made with just a click of a mouse. However, some bookstores do not like to work with Amazon since they take a 25% cut, and books are not generally returnable. Gordon recommends not using Amazon Kindle's special programs—Kindle Select/Kindle Unlimited—because this may require an exclusive agreement with Amazon and may lower royalties by 20%. In contrast, IngramSpark will publish a softcover or hardcover and the company distributes to bookstores and makes the books available to libraries. For ease of use, Gordon suggested going to IngramSpark first, then CreateSpace.
When writing a series, Gordon said, it is essential to have a timeline; the timeline he created for his series is about 25-pages long. Equally important is to have a list of characters. He found that characters are easier to write if they come from a dysfunctional family. In a similar vein, he said children grow up fast—in other words, how long can a child be credibly enrolled in high school or college? He said adults age much better. Gordon suggested it is a good idea for the main character to have a pet; that pet can be a minor figure, or it can be another character, but it should have some quirks. He added that his dog character, Wuff, has appeared in all his books and was even shot. In a series, if the main characters are married or are a couple, one spouse/partner can be killed. Likewise, if a character isn't working out, or if the author is worried that the readers are getting bored, characters can be killed. However, he added, don't bring back a character who was killed. Gordon said, it is good to have a sinister character appear throughout the series, much as Professor Moriarty served as a nemesis to Sherlock Holmes.

As for marketing suggestions, Gordon said book tours and lectures are usually not arranged by publishers. He found book tours did not give him a reasonable return; he sold only 2 copies the first time, 12 the second, and 25 the next month. The most he sold was 62, this past year. In contrast, he has sold 2,000 e-book copies. He said, book sales come after radio and TV interviews. Another marketing tip (good for bookstores) is to create a one-page handout, with a photo of the book cover on one side and a description and contact information on the other.
Gordon provided a handout, which said "Enjoy what you are doing." If you don't enjoy writing, do something else. His final recommendation, written in bold letters was Write for yourself.
When not writing, Gordon has been involved in Project Healing Waters in Montana, where fly-fishing is taught to former military personnel who were combat wounded. Next summer, he hopes to become involved in Casting for Recovery in Vermont, where fly-fishing is taught to women cancer survivors. According to his handout, he sailed in the America's Cup on America's contender "American Eagle" in 1967.
Gordon has degrees from the U.S., France, and Mexico, and except for a case of malaria, he would have had another degree from the Netherlands. He consulted and lectured at U.S. Embassies in a dozen or more foreign nations and was consulted on cross border issues by the Departments of State, Commerce, and Justice. He primarily fishes in the U.S. and Canada and is on pro-boards in fly-fishing in Simms in Montana and Orvis in Vermont. He has never kept a fish he caught; his first trout was caught in 1944 and was immediately released because he said, he was struck by its beauty. And fittingly, he uses barbless hooks whenever he fishes.