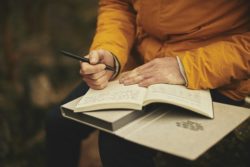 "But we just want to write!" we wail.
We writers dream of being left alone with our imagination. We desire peace and quiet in which to create our literary art, our expressions of hope, loss, joy and sorrow. We want to write our stories. Problem is, if we want people to read our stories, we need somehow to get our books into readers' hands. And in a free-market economy, distribution is synonymous with marketing.
"Leave me alone. I just want to write!" I wail.
A couple of decades ago, when a bad drought almost dried up the old, water-filled limerock pit next to my house near Williston, I imagined discovering a skeleton at the muddy bottom. Concocting mystery novels would be more fun than writing news articles, I thought. Fiction would be an escape from my eighty-hour work week as a local newspaper publisher and editor. Naively, I believed I could hide in the woods and write. Let a book publisher deal with the marketing. That's why we call them publishers, I reasoned. They make public what writers write.
What I didn't know was that the book publishing industry was in trouble. What had been dozens of large New York and Boston publishers had shrunk to six (now five). Changes in this industry are described by John P. Dessauer in "Coming Full Circle at Macmillan: A Publishing Merger in Economic Perspective," a chapter he wrote for The Structure of International Publishing in the 1990's, edited by Fred Kobrak and Beth Luey.
After multiple mergers and buyouts, the priority of publishers was keeping shareholders, not authors, happy. They had begun refusing to renew contracts with mid-listers, whose books were not mega money-makers. They focused on sure winners — established best-selling authors and celebrities — and they limited acquisitions from debut authors to a few expected block-busters. They slashed editing and marketing budgets. Their authors found they had to hire freelance editors and market their books themselves.
Reflecting on the publishers' cuts in marketing in 2008, Cristina Katz published Get Known Before the Book Deal: Use Your Personal Strengths to Grow an Author Platform. In this book, her advice to authors is to build your own platform as soon as you begin writing a book.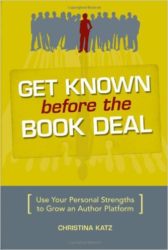 The first successful eReader, Kindle, available in beta in late 2007, let large numbers of writers bypass traditional publishers and sell directly to readers. Now, independent of publishers, these indie writers have discovered they have inherited the burden — or adventure — of marketing.
Whether we have someone else publish the book we've written, publish it ourselves, or experiment with some combination of the two, we have to market it, else readers won't know it exists. In a Forbes online article, "Joanna Penn on Self-Publishing and Hybrid Authors," Suw Charman-Anderson describes Penn's successful marketing experience.
I bought, read, and reread the Katz how-to book for wannabe bestselling authors. Every word memorized, I bought more and more books on marketing till my shelves were full. Then, after hitting the limit on my Kindle, too, I started reading blogs about marketing online. Finally, listening to podcasts, YouTube videos, and webinars, I became a "book marketing expert."
But my expertise was not based on experience; and instead of finishing my book, I continued to read about marketing. Years passed and my protagonist still didn't know who was responsible for that poor skeleton at the bottom of my limerock pit. My book expanded to two, then a trilogy, now a "trilogy" in four parts, and still I delay putting any of my theoretical marketing expertise into practice. I've fallen victim to the fear that can paralyze a writer: What if readers won't like my book? So I avoid putting it to the test. But mainly, I delay completion of the product so I won't be faced with marketing it.
And I'm not alone. Not only are most of us writers handicapped as marketers by lack of experience and knowledge, we're afraid. Many of us are introverts, totally unsuited for sales work. We hold back, either from completing a book or from putting it before the public for fear our baby will be rejected.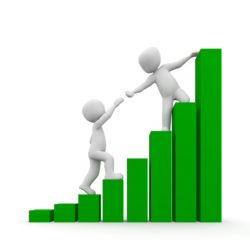 WAG is addressing our need for marketing education and support in two ways. First, with a series of monthly workshops, each dealing with a specific area. On Saturday, June 3, we will review the current publishing landscape and basic elements of book marketing. At later meetings, we'll look at the pros and cons of different kinds of publishers, reasons to join Kindle Select, strategies for authors at different stages in their careers, what different types of social media can and cannot do, good local venues for book launches, book funnels, websites, email lists, book magnets, blogging, keywords and categories, and the Amazon algorithm. At each meeting, we also plan to devote time to two or three issues members are experiencing in their marketing efforts.
These monthly meetings will be held on the first Saturday of the month, at 2 p.m. Watch this website for announcements of where the meetings will be held, topics for upcoming meetings, and how to get a list of online readings on marketing topics.
Then, on Saturday, August 5, we will hold a full day of workshops that will cover:
targeting your audience and reaching your market
preparing and distributing e-flyers and press packets
using social media (website, facebook, twitter, linkedin, texting)
networking and using personal contacts effectively
planning and executing a kickoff party (possible venues) and book signings
advertising and promotion (broadcast and print media)
speaking opportunities
Mark the August 5 date on your calendar and watch the WAG website for details on speakers and location. The cost, $35 for WAG members and $50 for nonmembers, includes lunch.