Writing a Romance Novel for Fun and Profit
March 12, 2:30 PM

-

4:00 PM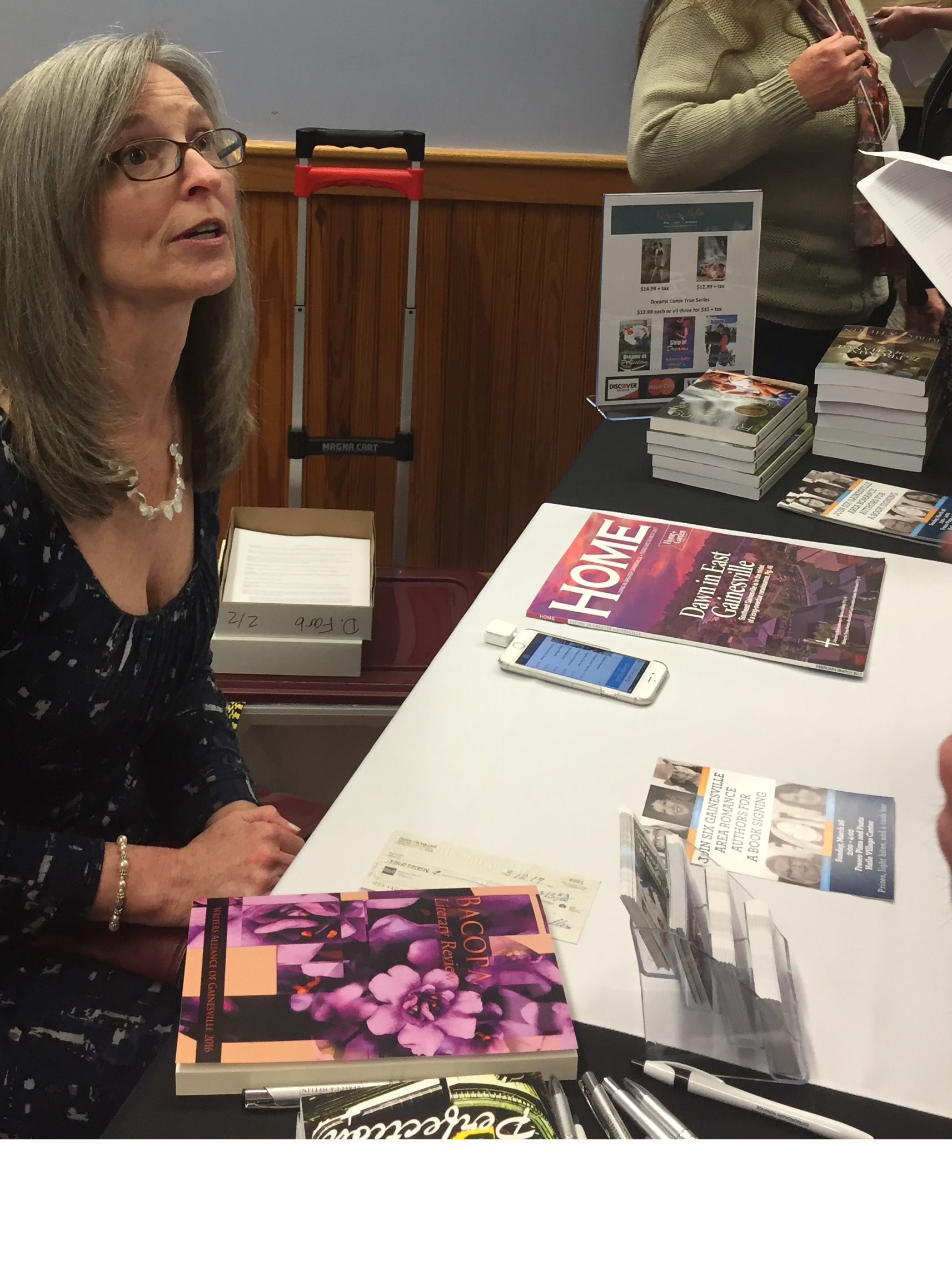 Rebecca Heflin, Gainesville author of contemporary romance, revealed many secrets of writing for fun and profit in her March 12 PowerPoint presentation. Too bad we cannot include all of them here.
She stressed the importance of voice, saying that "a bad editor can take away the author's voice; don't let that happen to you."
Heflin dreamed of writing romantic fiction from the time she was fifteen, after reading Shanna by Kathleen Woodiwiss, but she didn't begin writing until she was in her late forties, after she'd gone to law school and practiced law for fifteen years. She is now the author of six romance novels that are racking up awards — eleven to date.
"Hook the reader with your opening line," she said, and provided examples like this one: "What a waste of smooth, shaven legs." (Boss Man, by Vi Keeland)
The opening scene should:
convey the time period
introduce the setting (small town, big city, another world)
introduce one or both of the main characters
include the inciting incident
generate empathy for the character(s)
reveal the external conflict
reveal the internal conflict
set the tone (comedy, thriller, etc.)
propel the story forward
"Avoid 'sense' words like felt, smelled, thought, wonder, etc.," Heflin said. "Instead of saying 'Becky felt the snake slither up her leg,' say 'Becky's skin crawled as the snake slithered up her leg.'"
For audience members, the author provided copies of her entire PowerPoint slide presentation as well as a Vocabulary sheet. Two words that jumped out: BLACK MOMENT, the scene toward the end of the book when the romance seems hopelessly doomed. PURPLE PROSE, text that is extravagant, flowery, or ornate and detracts from the story; typically characterized by extensive use of adjectives, adverbs, and metaphors — something to avoid.
Assistant Director of Research at UF by day, Heflin said, "I must set deadlines and goals for my writing." She cannot follow instructions that tell you to sit down at the computer every day and write any damn thing that comes to mind. Instead, Heflin said she arranges her schedule to write in a focused way, one day a week.
Heflin's readers look forward to her new book, Winning Dr. Wentworth, available in June 2017, and Educating Dr. Mayfield, available in September 2017.
She is a member of Romance Writers of America (RWA), Florida Romance Writers, RWA Contemporary Romance, Savvy Authors, and Florida Writers Association. Follow her at http://www.rebeccaheflin.com/
Summary by Susie H Baxter.