Inspiring Teenagers to Write Poetry — The Struggles and Benefits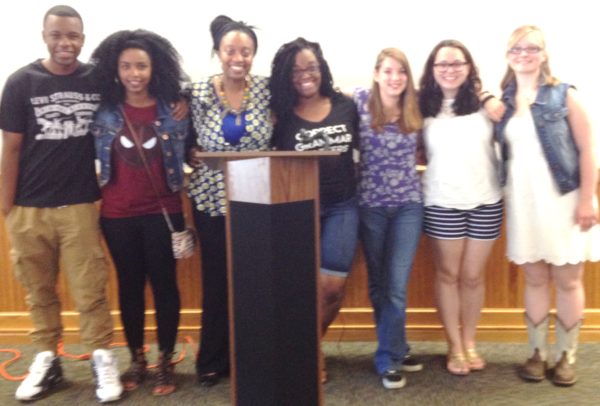 Nicole Harris (third from left), teacher of English literature at Gainesville High School, and her talented group of students presented a program of poetry in honor of Poetry Month (April).
Harris, Coordinator of Youth Programs for ARTSPEAKS, founded the poetry club Canes On Da Mic two years ago, giving students the opportunity to write and share their original poetry. The results surprised her.
Inspired by Harris' example as a spoken-word poet, the students competed in the 2015 Youth Speaks Brave New Voices International Poetry slam and entered the national Poetry Out Loud Contest at the regional competition in Tampa in February. A few of the students will perform their own work at WAG's meeting.
Nicole Harris's love for writing and performing was instilled early on – she began competing in oratorical contests at Oak Grove Elementary School. She is a spoken word poet and a former performer for South Florida's Word-of-Mouth Poetry Troupe, which is a chapter of Black on Black Rhyme, a group of nationally recognized poets creating a movement to educate, inspire, and change lives for the better.