Children Books . . . Readings at Local Author Series
December 9, 2:30 PM

-

3:30 PM
Event Navigation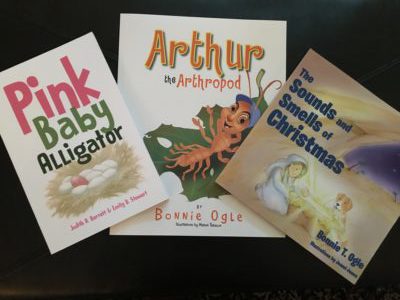 On Saturday, December 9, authors Bonnie T. Ogle and Judith A. Barrett discussed their new children's books in the Story Woods room of the Alachua County Library Headquarters.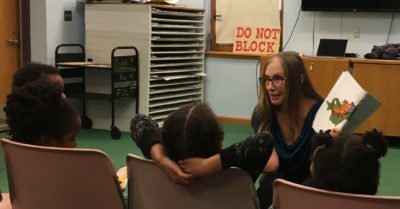 Arthur the Arthropod by Ogle. Feeling quite vulnerable when his shell comes off, the young centipede Arthur tries to overcome his feelings of inferiority by bragging. Along the way, he discovers he is part of a very large family that includes his neighbors, a mosquito, a dragonfly, and even a crawfish. He receives delightfully repetitive advice from his wise Mama, and ultimately realizes that he has everything he needs!
The Sounds and Smells of Christmas by Ogle. Would a king be born in a dark, moldy cave, surrounded by smelly animals? Would shabby, dirty people be allowed near a king? Only a king who loves His people, young or old, pretty or ugly, rich or poor. Enter the stable and experience the real sounds and smells of the Nativity and discover that Jesus didn't come to sit on a fancy throne. He came to be with ordinary people like me.
Ogle is a retired first grade teacher, now teaching children at a natural history museum. She is a huge fan of lepidoptera (butterflies) and herptiles, especially frogs.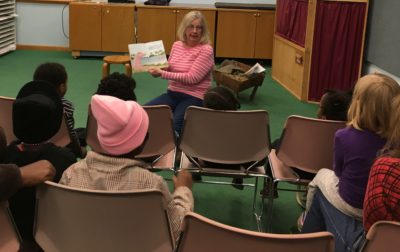 Judith Barrett's first book, Pink Baby Alligator, is a story she told her young granddaughter, who then requested the story be written down so she could read it for herself. Soon, the story passed through many grandchildren, proving particularly meaningful for her autistic grandchild.
Pink Baby Alligator by Barrett. Pink in a world of green. From the very beginning, it's obvious that Rose is different. As a lone pink alligator in a family of green ones, she stands out when all she wants to do is blend in. With the support of Mama Alligator and her friends, Rose sets off on an adventure to discover how to use her special gift to create a place where everyone is included!