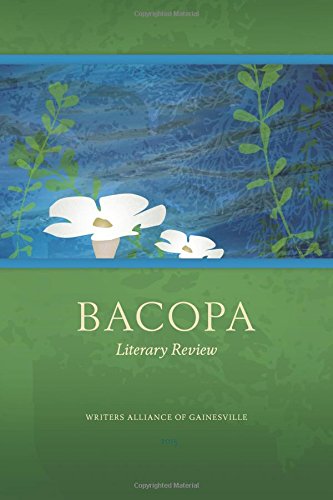 Bacopa Literary Review 2015 is the 6th annual volume of poetry, creative nonfiction and fiction by authors—both new and familiar—from around the globe.
About the Book
Bacopa Literary Review, published by Writers Alliance of Gainesville, welcomes submissions annually from authors anywhere with internet access. Prize winners—who receive cash awards Plus publication—and other selected submissions make up each year's book. Bacopa 2015 is, as usual, an eclectic mix of voices and styles as we welcome quality, engaging work in any form.
CONTRIBUTORS
FICTION
Ellen Perry (1st Place), Debra A. Daniel (2nd Place), Michael Allard (3rd Place), John T. Battaglia, Amy Willoughby-Burle, Nicholas Lloyd, Mary Moycik, Sandra Ramos O'Briant, Bennett Paris, Marie Q. Rogers
CREATIVE NONFICTION
Kaye Linden (1st Place), Michael Kite (2nd Place), Catherine Ghosh (3rd Place), Justin Hunt, Richard Key, Sandra Ramos O'Briant
POETRY
Diane Stone (1st Place), Justin Hunt (2nd Place), David Antonio Moody (3rd Place), Phillip Aijian, Jeffrey C. Alfier, Nathan Blan, Katarina Boudreaux, Michelle Brulé, Valentina Cano, Sheryl Clough, Bruce Colbert, Holly Day, Darrell Dela Cruz, William Doreski, Jonathan Greenhause, Margaux Griffith, Mark Jackley, David B. Maas, Lauro Palomba, Mary Elizabeth Parker, Kenneth Pobo, Kimberly Rose, Lynn Veach Sadler, Les Wicks, Laryssa Wirstiuk
EDITORIAL TEAM: Gen Aris (Editor(in(Chief/Poetry Editor), Jani N. Sherrard (Associate Editor), Pranada Comtois (Managing Editor), Dorothy Staley (Creative Nonfiction Editor), Shellie Zacharia (Fiction Editor)
Disclosure of Material Connection: Some of the links in the page above are "affiliate links." This means if you click on the link and purchase the item, Writers Alliance of Gainesville will receive an affiliate commission. We are disclosing this in accordance with the Federal Trade Commission's
16 CFR, Part 255
: "Guides Concerning the Use of Endorsements and Testimonials in Advertising."