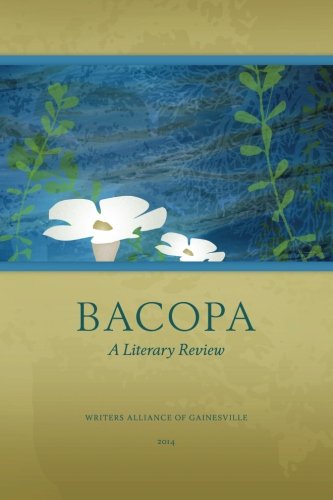 Bacopa Literary Review 2014 is the 5th annual volume of poetry, creative nonfiction and fiction by authors—both new and familiar—from around the globe.
About the Book
Bacopa Literary Review, published by Writers Alliance of Gainesville, welcomes submissions annually from authors anywhere with internet access. Prize winners—who receive cash awards plus publication—and other selected submissions make up each year's collection. Bacopa 2014 is, as usual, an eclectic mix of voices and styles as we welcome quality, engaging work in any form.
CONTRIBUTORS
FICTION
Charlotte M. Porter (1st Place), Jim Fairhall (2nd Place), Nancy Scott Hanway (3rd Place) U.R. Bowie, Annika Browne, Richard Dokey, Zdravka Evtimova, Gene Hines, Ray Keifetz, Deborah Maragopoulos, Amy Scanlan O'Hearn, John Pace, Erika D. Price, Morgan Sorrell, Mary Thaler, Alison Turner, Siamak Vossough, Sally Yazwinski
CREATIVE NONFICTION
Melani "Mele" Martinez (1st Place), JLSchneider (2nd Place), Emily Hipchen (3rd Place), Hi-Dong Chai, Heather Durham, Kaye Linden, Rick Sapp, Caroline Sposto
POETRY
Julia Wagner (1st Place), Richard King Perkins II (2nd Place), Jonathan Travelstead (3rd Place), Forest Balderson, Sheryl Clough, Marguerite (Meg) Scott Copses, Viannah E. Duncan, Alan Elyshevitz, Lucas Jacob, Tad Karmazyn, Lori Lamothe, Richard Luftig, J.S. MacLean, Belinda Meyn, Jesse Minkert, Christopher Mulrooney, Terry Persun, Charlotte M. Porter, Mike Sheedy, David Stallings, Kelly Talbot
EDITORIAL TEAM: Gen Aris (Editor-in-Chief/Fiction Editor), Jani N. Sherrard (Associate Editor), Pranada Comtois (Managing Editor), Dorothy Staley (Creative Nonfiction Editor), E.R. Turner (Poetry Editor)
Disclosure of Material Connection: Some of the links in the page above are "affiliate links." This means if you click on the link and purchase the item, Writers Alliance of Gainesville will receive an affiliate commission. We are disclosing this in accordance with the Federal Trade Commission's
16 CFR, Part 255
: "Guides Concerning the Use of Endorsements and Testimonials in Advertising."