The Alachua County Library Introduces New "Local Author Series"
September 16, 2:30 PM

-

3:30 PM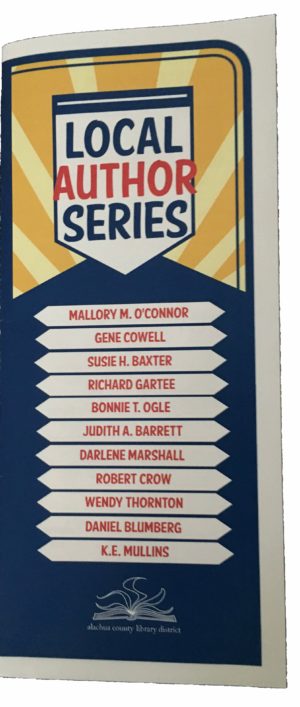 The Alachua County Library's new "Local Author Series" begins September 16, 2017. Each month, a local author will read and explain his/her latest written work, take questions, and have books available for sale. Programs begin at 2:30 p.m. on the dates shown:
Sat., Sept. 16: Mallory M. O'Connor, American River: Tributaries
Sun., Nov. 19: Susie H. Baxter, Pumping Sunshine
Sun., Dec. 3: Richard Gartee, Lancelot's Disciple
Sat., Dec. 9: Bonnie T. Ogle, Authur the Arthropod; and Judith A. Barrett, Pink Baby Alligator*
Sun., Jan 21: Darlene Marshall, The Bride and the Bucaneer
Sun., Feb. 18: Robert Crow, Nudge & Boost for Better Living
Sat., Mar 17: Wendy Thornton: Sounding the Depths
Sat., Apr. 21: Daniel Blumberg, The Rise and Fall of Mechanikalle
Sat., May 12: K.E. Mullins, In the Company of Strangers
---
* All programs will be held at the Headquarters Library, 401 East University Avenue, Gainesville, FL in Meeting Room A, 4th floor, except the December 9 children's program, which will meet in the StoryWoods Room.